Leigh P. Narducci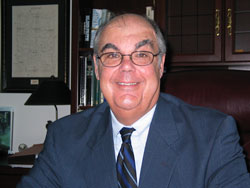 Leigh P. Narducci maintains a litigation practice which concentrates in criminal law* but which includes personal injury, business and commercial litigation.
Leigh, a long time member of the Bar, received his Bachelor Degree from Villanova University and earned his Law Degree from Temple University.
He has served in the elected position of Township Supervisor of Whitpain Township since 1981 and has been chairman of that Board that entire time. Leigh served on the Board of the Red Cross and Boy Scouts of America. He is also a part time professor of Law at Montgomery County Community College.
Leigh can be reached at 215-628-3810 or lnarducci@bluebelllaw.com
*He has tried numerous criminal cases ranging from first-degree murder to complex white-collar prosecutions.